Tinker:


James "Jay" Carney is President Barack Obama's second White House Press Secretary. Prior to his appointment as Press Secretary, replacing Robert Gibbs, he was director of communications to Vice President Joe Biden. Wikipedia
Once upon a time in America honesty was the unspoken agreement between fellow American citizens when we talked to strangers. That we held our privacy in our family members private lives sacred, and not for public consumption. That we also respected the privacy of our fellow man everywhere.
That in the course of running our business activity's in and around each other, we also practice a speaking intent in an unspoken way to respectfully act like a gentlemen. Trying to keep our exchange of information honest.
Now all I hear from this White House public relations spokesman is that invasive word games, and down right dishonesty. Telling us nothing at all instead of the way it is
J. Carney has been caught telling us to many lies now for me to stop and listen to what he is telling us now, because I really don't believe in anything that he said before.
------------------
http://dailycaller.com/2013/07/22/carneys-most-boring-press-conference-evah/
Politics
Carney's most successful press conference evah!
Neil Munro
White House Correspondent
White House spokesman Jay Carney held a wildly successful press conference Monday. There were no questions about the president's expanding scandals, sliding poll numbers, lousy employment numbers or even the much-touted immigration bill's impact on American college graduates and blue-collar workers.
Instead, reporters followed the story released by the White House's public relations team, which said the president would give three economic speeches this week.
Some members of the White House press corps asked a few questions about the latest failed effort to get Arabs to agree to Israel's existence, all of which Carney instantly muffled with familiar clichés.
------------------
Tinker:


Look at this horror of what really happened to Ambassador Stevens in Benghazi Libya, on that tragic day into a night of Hell;
Remember, Jay Carney, Obama's spokesman said it was just a phony scandal ...
Also see and read...http://www.canadafreepress.com/index.php/article/53998
--------------------
http://drudgereport.com/

Cruz: America Needs Spiritual Revival...
-------
POLL: 62% Of Americans Believe God Played Role In Evolution...

------------------
http://www.weeklystandard.com/blogs/william-wilkins-irs-chief-counsel-and-loyal-democrat_740006.html

IRS Chief Counsel William Wilkins a Big Donor and Loyal Democrat
Send to Kindle
As witnesses have testified to the House Ways and Means Committee, the chief counsel for the Internal Revenue Service may have played a role in the IRS's practice of reserving special scrutiny for Tea Party and other conservative political groups. William Wilkins, chief counsel and one of two political appointees at the IRS, was "closely involved in some of the applications" for tax-exempt status, according to a press release from the committee.
But who is William Wilkins? According to the 2009 announcement of his appointment to the IRS, Wilkins was a registered lobbyist with Wilmer Cutler Pickering Hale and Dorr since 1988. At WilmerHale (the firm's new name after 2003), he was a part of the Tax Practice Group, where he practiced a wide range of tax law services, including "counseling nonprofit organizations, business entities, and investment funds on tax compliance, business transactions, and government investigations." Before his lobbying career, Wilkins was staff counsel for the Democratic side of the Senate Finance committee, from 1981 to 1988.
As Carol Platt Liebau points out, there are some questions about how the White House was left in the dark about the IRS's probing of conservative groups when its own appointeee appears to have known about the investigations
------------------
WASH TIMES: Records of snooping into Christine O'Donnell tax file mysteriously go missing... Developing...

------------------
SHUTDOWN LOOMS OVER OBAMACARE...
----------------------
CNN Boss Admits to Not Having Enough 'Conservative Points of View'...
----------------------
http://drudgereport.com/

----------------------
http://www.today.com/news/meet-prince-George-royal-baby-gets-name-6C10729858
baby
Meet Prince George! Royal baby gets a name
Alastair Jamieson NBC News
Oli Scarff / Getty Images
Prince William, Duchess Kate and Prince George.
The name of Britain's newborn prince was revealed Wednesday.
And his name is...
George Alexander Louis!
According to the statement, the baby will be known as His Royal Highness Prince George of Cambridge.
Though Prince Charles and Princess Diana took a week to announce William's name, Will and Kate took just two days. Prince George was born Monday at St. Mary's hospital in London at 4:24 p.m. local time, 11:24 a.m. ET.
The name was announced in an email from Kensington Palace. Most of the royal family does not use a last name, though in 1917, King George V adopted the name surname Windsor for his family.
----------------------
Sports
----------------------
eauxranger54
LSU Fan
Hoover, Alabama
Member since Feb 2012
662 posts
Online



Jennings backup to Mett (Posted on 7/24/13 at 12:56 pm)





---

quote:


---

@Tiger_Rag: Miles says Jennings looks to be backup QB and Rivers had a great summer. That's the clear top 3 at QB.


---
-----------------------
TheCaterpillar

LSU Fan
Nashville from BR via Oxford
Member since Jan 2004
31607 posts

Online

re: Jennings backup to Mett (Posted on 7/24/13 at 1:40 pm to PurpleAndGold86)
---
Jennings is going to be so fricking good barring injury.

All reports are that he is way ahead of his age/time. He is athletic, can move well in pocket, keeps his eyes downfield, is VERY accurate with sufficient arm strength, and most importantly is a GREAT kid that studies and learns the playbook like a seasoned vet.

I haven't been this excited about a QB at LSU since Josh Booty was supposed to be our savior. Lets hope it turns out better than that
-----------------------
Fat Man

LSU Fan
Covington, Atlanta, Winston-Salem
Member since Jan 2006
5982 posts

Online

Today is a Mike VI's birthday ... (Posted on 7/23/13 at 6:36 am)
---
Happy Birthday to a great Tiger:

Mike the Tiger VI

-----------------------
http://espn.go.com/college-football/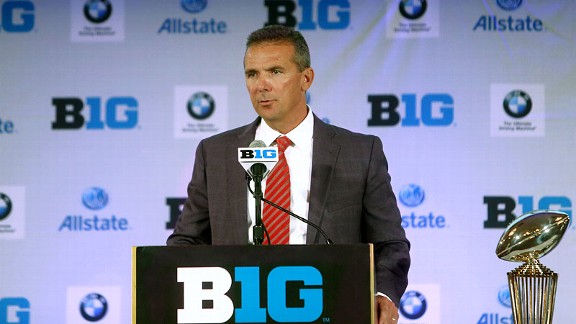 Live on ESPNU & WatchESPN.com: College football media days
Big Ten's Turn
Urban Meyer faced plenty of questions about off-field issues at Big Ten media days. Matt Fortuna » Live blog from Chicago

Will Braxton Miller improve?

Vote: League favorite »
More »
Jerry Lai/USA TODAY Sports
------------------------
http://espn.go.com/blog/sec/post/_/id/66730/lunchtime-links-271
Lunchtime links
July, 24, 2013
By michaeldirocco | ESPN.com
Grab a sandwich and your tablet, phone or laptop and settle in for some lunchtime reading ...













------------------------
http://www.dandydon.com/
Dandy Don's LSU Sports Report
Good morning, Tiger Fans.
I'd like to start today's update by thanking you for the positive feedback on our ongoing unit-by-unit reviews of the football team, and on the
interview-in-progress with Mike Detillier
, which now includes Mike's thoughts on LSU quarterback commitment Brandon Harris as well as a couple of current Tigers who he expects to be impact players on offense.
Today we'll continue our LSU football unit-by-unit breakdown by taking a look at the running back and quarterback positions
. I know you're expecting me to jump right into new offensive coordinator/quarterbacks coach Cam Cameron, but I want to first highlight a coach that has been a tremendous member of Les Miles' staff: running backs coach/recruiting coordinator Frank Wilson. Wilson is entering his fourth season as the head of the running back unit, and while I could spend an entire update highlighting his recruiting efforts, this is for discussing the running backs. Wilson has had the luxury of a large stable of backs in previous seasons, but this year's depth is not nearly as strong (albeit extremely talented). As for Coach Cameron, his addition to the staff as offensive coordinator and quarterbacks coach is something that should pay big dividends for the entire offense, but especially for the Tiger signal callers. Cameron's NFL and college experience coaching some pretty big names is very impressive. His résumé includes the likes of Antwaan Randle El (Indiana), Drew Brees (Purdue), Philip Rivers (San Diego Chargers and older brother of backup Stephen Rivers), and most recently Super Bowl XLVII MVP and champion Joe Flacco (Baltimore Ravens).
The current legal cloud surrounding last season's leading rusher Jeremy Hill (So.) is the biggest unknown at this point.
As most of you know, Hill pleaded guilty to a charge of simple battery stemming from an April 27th incident outside of a Baton Rouge bar, after he was already on probation for a previous charge of carnal knowledge of a juvenile in 2010. While he is currently suspended indefinitely from the team, the August 16th review of his probation should clear the air as to his future status as a Tiger. My guess is that Hill will be a part of the team this season, although I predict he will miss some time. In any event, the availability of Hill will have a strong outcome on the Tigers' running game. If he's reinstated, then he immediately becomes the most dynamic back on the roster. If not, then there are a few guys that will be called upon to step it up and carry the load.
Alfred Blue (Sr.) and Kenny Hilliard (Jr.) return this season, and both have had a very big impact when they've lined up in the backfield.
When healthy, Blue is someone that could start for just about any team in the country. Blue's ability to run between the tackles and his deceptive breakaway speed makes him a potential All-SEC caliber player if he can log a full season. Blue was really on his way in the first few games of last year before missing most of the season with a knee injury. By all accounts, and what I have personally seen, Blue looks to be back to full speed and ready for a big season. Hilliard had a very strong spring and looks primed to return to his true freshman form that saw him tied for the team lead with nine total touchdowns (eight rushing, one receiving). Hilliard has proven to be a very durable back that had a slight decline in production last season due to a minor injury and the emergence of Jeremy Hill. Hilliard will be counted upon in a big way this season for depth, and depending on Hill's status, could play an even bigger role. Junior Terrance Magee returns to the backfield after making the switch to wide receiver last year due to a crowded backfield. Magee is someone to keep an eye on this year as he has shown glimpses of being more than capable of earning a few carries a game. His ability to catch the ball out of the backfield will also be a weapon for the Tiger offense and was showcased more than a few times in the spring game. Then there's always the possibility of using freshman speedster Jeryl Brazil at running back, although he will likely be looked at first at cornerback and as a return specialist.
As for the quarterback position, senior Zach Mettenberger returns as the starter, and it's now or never for the talented and somewhat inconsistent leader of the Tiger offense.
Mettenberger showed in certain games what made him an early season fan favorite and someone Tiger fans were excited to see. He has a very big arm, but struggled at times with accuracy, as apparent on numerous overthrown balls to wide-open targets and forced throws into coverage. If he can put it all together mentally, Mett has the physical tools to make his last season as a Tiger a big one. Having Cameron mentoring him should pay dividends. The current backup listed on the depth chart is Stephen Rivers, but I wouldn't be surprised at all to see true freshman Anthony Jennings assume that role going into the season. Jennings had a phenomenal spring and showed real dual-threat ability that can be used in certain packages. The coaches have consistently raved about Jennings' mental toughness and many have said he doesn't look like a freshman out on the field. If Mettenberger goes down early, you would more than likely see Rivers first, but Jennings may be too good to keep off the field. Fellow freshman Hayden Rettig will likely take a redshirt year, but Cameron has stated in reports that he is making tremendous strides since the spring.
For today's jersey countdown, we'll highlight last year's No. 38 – Aussie punter Brad Wing.
"Crocodile Puntee" as he was jokingly referred to as at times was a highly decorated special teams contributor. Earning first-team All-American honors in 2011, Wing had about as strong a freshman season as any former Tiger before him. Wing placed 27 punts inside the opponent's 20 yard line in 2011 and also contributed a booming 73-yard punt that helped the Tigers knock off 2nd ranked Alabama in what many claim was the most heavily hyped college football matchup in years. Wing finished his career with a 44.6-yard per punt average, which ranks first in school history, and had an astonishing 41% of his career kicks downed inside the 20 yard line. Wing opted to forego his last two years of eligibility and is currently a member of the Philadelphia Eagles serving as a backup to another former Tiger great, Donnie Jones (2003). However, yesterday I read that
Wing failed to pass the Eagles' conditioning tests
and will likely have another chance to do so today.
I'd like to give a special Happy Birthday shout out to our favorite Tiger, Mike VI.
LSU's live Bengal mascot turned eight yesterday and celebrated by receiving a cut up watermelon covered in whipped cream. Here is a
snapshot of Mike enjoying his birthday treat
.
LSU's annual "Fan Day" has been officially set for Sunday, August 11th.
The day kicks off with the 2013 Media Day beginning at 3:30 pm with Coach Miles and the players addressing the media, and ends with your chance to meet and get autographs from everyone from 5-6:30 pm in the basketball practice facility located inside the Pete Maravich Assembly Center.
Reader comments:
Scott, here's a
snapshot of a few Tigers sporting the jerseys that they'll wear this upcoming season
. It looks like the slightly altered
------------------------
http://www.youtube.com/watch?v=SQbNxNql0PU
LSU vs Arkansas 2012
------------------------